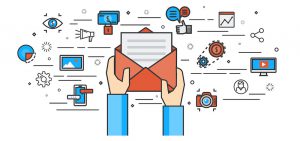 Moving to a new email server is a big decision for any business. Therefore, finding the right email platform that meets all your needs and migrating all your data and users can be challenging.
Consider Microsoft Outlook. Microsoft Outlook is email software offered as part of the Office 365 applications. Outlook provides more than just sending messages. It also functions with calendars, tasks, contacts, note-taking, and other Microsoft apps, making it the perfect option for organizations large and small.
Here are ten reasons to take advantage of email with Office 365:
1. Shared Mailboxes
Shared mailboxes are for email addresses that multiple employees may need access to, such as "accounting@companyname.com" or "info@companyname.com." Users can easily switch to their assigned shared mailboxes, which are free and included with Office 365.
2. Email Encryption
Encrypted emails act as an additional security measure to prevent anyone who was not the intended recipient from reading the email. Office 365 Message Encryption (OME) offers multiple encryption options for business needs and security. OME can share a protected email with anyone on any device.
These options help to protect the privacy of an email containing sensitive information when needed. Office 365 users have the opportunity to send encrypted email messages to anyone, inside or outside the organization, regardless of their email address.
3. Use Outlook Anywhere
There's a chance you're already using Outlook for email! With Office 365, you can natively work with Outlook instead of using the constantly breaking G-Suite sync connector.
Access your emails and other cloud applications in real-time while working remotely from the office, using a phone, tablet, or computer browser—no need for a VPN.
4. Access to the Security and Compliance Center
Business and enterprise plans come with access to the Microsoft Security Center and Compliance center, which is a hub for "monitoring and managing security across your Microsoft identities, data, devices, apps, and infrastructure."
Within the center are tools to understand the health of your organization and guidance to make security improvements. This includes email security features such as anti-spam and anti-malware.
5. Data Reliability and Security
Since Office 365 stores on the cloud, the risk of lost email data due to natural disasters reduces drastically.
In addition, Microsoft's data loss prevention policy allows businesses to identify, monitor, and protect sensitive information across Office 365 apps. For example, settings can be adjusted to locate and block emails containing private information, such as health records, from being sent.
6. Seamless Scheduling
Outlook allows the ability to share your schedule with anyone. Team members can check other's availability and schedule meetings effortlessly within Outlook. The calendar feature is also helpful for event organizers to schedule appointments for all or specific groups of employees.
7. Easy Attachments
Instead of attaching a document in an email, you can share a link to OneDrive instead. OneDrive for Business lets you store and protect your files, share them, and access them from any device.
8. Large Mailbox Size
Outlook mailbox size packages can vary from 50 GB to unlimited. Even 50 GB is enough space for the typical user – it can hold hundreds of thousands of emails with attachments.
9. Easy to Scale
Easily add more email users as your business grows. Office 365 charges per user, so no issues in scaling up or down. Only pay for what you need and scale up and down when needed.
10. Impressive Search Capabilities
Microsoft Outlook makes it convenient to find anything with its integrated search function. Its powerful filters and options to organize messages make it easy to pull up items matching your search criteria.
Ready To Take Advantage Of Office 365 Email for Your Business?
Overall, Office 365 provides multiple features for businesses to streamline their emailing system. When combined with the Office 365 applications, there are improved transitions between all business areas, allowing employees to be more productive in their work.
The experts at Wahaya IT can help with your email, data, and document migration from your current platform. After every migration, we provide professional training to help employees take full advantage of the new products and technology.