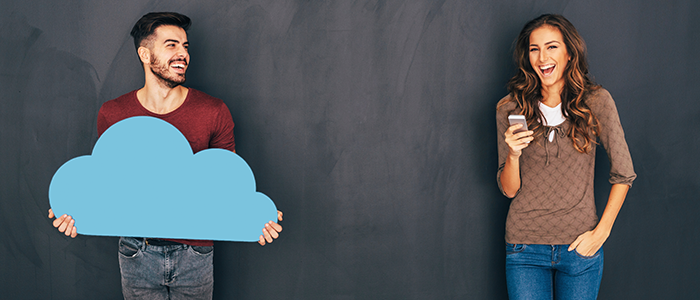 Things to consider before switching to the Cloud
More and more businesses are switching to the Cloud to store their data and rightly so. The Cloud offers numerous benefits over the traditional, physical on site server. For example,
Anytime, anywhere access to your data: Information in the Cloud can be accessed from anywhere using an internet connection, unlike in the case of traditional servers, where you need a physical connection to the servers
Significant cost savings: You cut hardware costs, because the Cloud follows a 'pay-as-you-use' approach to data storage
SaaS compatibility and support: The Cloud allows the use of Software-as-a-Service since the software can be hosted in the Cloud
Scalability: The Cloud lets you scale up and down as your business needs change
24/7 monitoring, support, and greater access reliability: When your data is in the Cloud, the Cloud service provider is responsible for keeping it safe and ensuring it is securely accessible at all times. They monitor the Cloud's performance and in the event of any performance issues, they provide immediate tech support to resolve the problem
Your big Cloud move: What to consider
If you are considering moving to the Cloud, you will find it helpful to sign-up with an MSP who is well-versed with the Cloud. They can advise you on the benefits and risks of the Cloud and also offer the Cloud solution that's right for you. In any case, before you migrate to the Cloud, make sure you are dealing with a reputed Cloud service provider who has strong data security measures in place. You can even explicitly ask them what security mechanisms they have invested in to manage data access and security.
Yes, moving to the Cloud has it benefits, but it also has its challenges including security risks. Learn more in our next blog, "Is the Cloud really risk-free?"

Cyber-attackers have a range of motives and methods to steal information and are continuously finding ways to disrupt businesses and clear bank accounts. With technology becoming increasingly prevalent in our day-to-day lives, cyber risks are increasing as well.
Data poisoning attacks, a lesser-known type of cyber attack, can cause great damage to an organization that often goes undetected for a long time. Some cases can cause even more damage than common threats such as viruses and ransomware. In a cyber poisoning attack, incorrect data quietly slithers into your system and changes its overall functioning, which can lead to a data breach and loss of user trust.
What are Cyber Poison Attacks?
Cyber poison attacks alter the area where the computer system makes smart decisions. The attacker creates a loophole in the core data rule and trains the system to adhere to that rule so it can be exploited. As a result, the system's data model is skewed and the output is no longer as originally intended.
For example, the access control for a particular file is only accessible to those in an organization above the VP level. An attacker might change the main parameter to include the manager level. In this case, the core data set is violated and the system will not detect an intrusion by someone at the manager level, even if they log in with their credentials.
Types of Poison Attacks
There are 4 main categories of poison attack methodologies:
Logic corruption – The attacker changes the basic logic used to make the system arrive at the output. It essentially changes the way the system learns, applies new rules, and corrupts the system to do whatever the attacker wants.
Data manipulation – The attacker manipulates the data to extend data boundaries that result in backdoor entries that can be exploited later.
Data injection – The attacker inserts fake data into the actual data set to skew the data model and ultimately weaken the outcome. The weakened outcome then serves as an easy entryway for the attacker into the victim's system.
DNS Cache Poisoning – The attacker corrupts the DNS data and causes the name server to return an incorrect result.
The Most Common Poisoning Attack: DNS Cache Poisoning
Domain Name System (DNS) is the "backbone" of the internet that associates a unique IP address with each domain name. A DNS cache poisoning, also called a DNS spoofing attack, can take traffic away from a legitimate server and send it over to a fake one.
In the case of a DNS cache poisoning attack, the attacker enters false information into a DNS cache so that DNS queries return false information, usually a fake website. Anyone typing in the URL of the actual website is redirected to the fake one. This article explains more about what happens behind the scenes.
The fake website that users are redirected to could be a phishing site where the attacker attempts to capture the unsuspecting victim's personal data or secure information. The visitor might think they're logging into their bank's website online, but are actually on the attacker's phishing site and exposing their personal login credentials.
How To Protect Your Organization Against DNS Cache Poisoning
A DNS poison attack is particularly dangerous because it can quickly spread from one DNS server to the next. Below are some ways to protect yourself and your customers from becoming victims of this type of attack.
Cybercriminals try to corrupt your DNS server using theirs. You can prevent this by bringing a trained professional onboard for your DNS server set-up. An expert will know to set up your DNS server such that it has a minimum relationship with other, external DNS servers, thus limiting your attacker's ability to corrupt your DNS server using theirs.
As a best practice, ensure that your DNS servers only store data related to your domain and not any other information. It is harder to corrupt the system when it focuses on a single element.
Another best practice is to ensure that you are up-to-date on all DNS security mechanisms and are using the most recent version of the DNS.
Ensure your site has, an SSL certificate and make sure it is HTTPS. Using encryption, a site with HTTPS protocol allows for a more secure connection between its server and the internet and is better at keeping cybercriminals out.
Having an SSL certificate also ensures your site's name shows up alongside the URL in the address bar. This is an easy way for visitors to identify if they are on a genuine site or not, thus helping them steer clear of phishing attacks and clone sites.
Your users expect their data to be protected when visiting your website. Without the proper security measures in place, your organization may suffer long term consequences from a data breach.
Take the right steps to help your organization defend against cyber poisoning attacks. Click here to contact Wahaya IT Consulting and start developing a security plan for your company.
We often click links in emails, websites, and social media without a second thought. However, clicking a link can be a risk. Opening a malicious link without any network security protection can cause insurmountable damage to a business.
Network security is the practice of securing a computer network against the intrusion of unauthorized users. As attacks are continuing to target small businesses, network security protections are extremely important.
Criminals around the world keep coming up with new, sophisticated ways of stealing money and data. Their purpose is often to steal data or hold companies ransom. Businesses with inadequate IT systems are vulnerable targets.
Failure to implement proper network security measures can result in the release of sensitive customer information, such as credit cards and HIPAA protected information. This can also result in fines and legal consequences for the unsecured business.
What Does a Network Security Threat Look Like
It often starts with a dodgy link. Staff email accounts are the main entry point attackers target as they try to hack into IT systems. Without realizing it, an employee might receive a seemingly regular email. Just a simple link click on a suspicious link can let hackers into the business – it really can be as easy as that.
Other common threats include:
Viruses
Trojan horses
Insecure passwords
Spyware
Design flaws in the network
Having faith in your team is not enough. Sophisticated criminals often do research to pretend to be people they're not. They can persuade even your most tech-savvy staff to click links that can leave your whole business exposed to real danger.
Mobile phones are also in danger of being attacked, regardless of how safe their operating systems claim to be. Notably, Twitter was also recently hacked, with speculations that it was the result of hackers targeting workers who had administrative privileges.
There is good news though – you can manage the risk with the right security measures in place. Wahaya IT Consulting works with businesses to keep their technology safe. We can also help train staff on how to spot potential threats.
Facts About Data and Network Security
Data you hold about your customers and how you run your business is one of the most valuable assets your company owns. As people become aware of the value of their personal data, they expect businesses to take extra care looking after it. But what happens when data ends up in the wrong hands? Here are three scary facts about data breaches:
As a small business owner, you are particularly vulnerable to data theft as 43% of cyberattacks target small businesses. (Source: Verizon)
Data breaches exposed 4.1 billion records in the first six months of 2019. (Source: RiskBased Security)
The average time to identify a data breach last year was 206 days. (Source: IBM)
The risks for not taking good care of your data are severe. If you don't have a team monitoring your IT security, months can go by before you even become aware of a breach.
Find the Right Network Security Soltuion
The right network security solutions will protect your customers and your data. We keep our clients safe by monitoring their data security for them. Our customized network security solutions around your specific business help to reduce the likelihood of an attack.
Minimize the risk of one bad link derailing your business. Click here to contact Wahaya IT Consulting.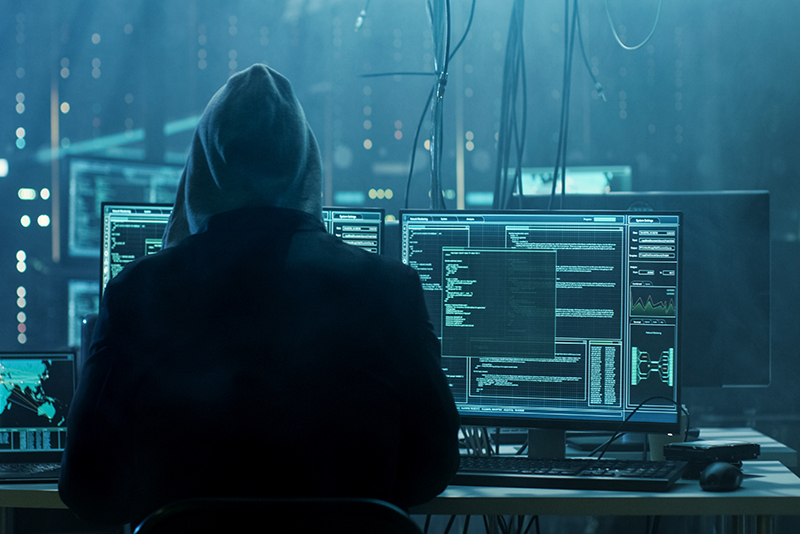 Defending against cyber attacks – Antivirus software and antivirus employees
There are two basic defenses you should have in place to defend against cyber attacks One is technological, the other is human. Together, the two can go a long way to protecting the integrity and security of your data.
Antivirus software and network protection – One of the risks you face these days is the one that is most likely to damage your brand. It is the one most likely to deeply undermine customer confidence and trust. That risk is a data breach. If you experience some form of data breach where your clients perceive their data has been compromised, your brand is damaged permanently. More importantly, you are likely liable for the financial consequences of a data breach. Make sure that your systems are protected by the latest antivirus software and that you are consistently updating it. New viruses appear every day, so outdated antivirus software is less likely to protect you.
Employee training – One of the tools for risk managers is risk avoidance. Avoid getting into trouble in the first place. Training employees about their responsibility for data security is critical. One of the primary ways that hackers and thieves gain access to corporate data is through employee error. Every employee should be trained on proper password behavior. Simple guidelines about changing passwords frequently and never sharing passwords are basic but important first steps. Additionally, employees need to be trained to identify fake websites and phishing scams. Opening emails with bad attachments and links is a principal source for entry into company accounts and databases. A managed service provider can provide tips and guidance on training your employees about data security.
In summary, small businesses need to be aware of the risks that exist out there and make plans so they are not caught flat-footed when disaster strikes. It is especially important for smaller firms to be aware of this because they are the least likely to have the deeper pockets to be able to rebound after a catastrophic event hits their business. A managed service provider is an excellent resource for developing a risk management plan for your IT infrastructure.

In the past several months, work from home (WFH) policies have become increasingly popular. The spread of COVID-19 has resulted in a temporary and sometimes permanent WFH environment for many companies throughout the country.
Working from home can be beneficial and many employers and workers are happily embracing the trend. Plus, with remote access solutions, it's easier for businesses to safely operate from anywhere with a secure, remote connection. Here are some benefits companies see after making a WFH shift:
Improved Employee Satisfaction
Many employees appreciate the option to work from home at least part of the time. The flexibility to choose when to go into an office provides peace of mind to employees who might have to commute far in bad weather or need to deal with an unexpected illness. Most workers prefer organizations that allow a greater balance between life and work.
Increased Productivity
Increase worker productivity is a major potential benefit for a work from home policy adoption. Studies have shown that in many cases productivity improves when employees work from home.
It may seem that a house has many distractions, but the office may have more. Colleagues visiting, a loud office space, and impromptu meetings can steal away a lot of time. From home, some employees have the opportunity to focus on a task with fewer interruptions.
Less Time Spent Commuting
Anyone who sits in traffic or takes public transportation daily understands the merit of a shortened commute. It's also greener: cutting down on daily commutes may have a net positive effect on energy savings. At the very least, employees will see a decline in transportation costs and time spent traveling to work.
Recruitment and Retention Improvements
Recruiting top employees remains a serious challenge, but limiting the candidate pool to a local area may mean a company is missing out on potential applicants. Studies by major consulting and recruitment firms are determining that the opportunity to WFH can be a key factor when applying for new jobs. Companies may also lose some of their own workers – the lack of work from home opportunities has been listed as a reason for seeking alternative employment.
Decreased Real Estate Costs
For companies and organizations who believe WFH will be their long-term model, this can mean eliminating office space, cutting considerable fixed-costs out of the bottom line equation.
There are many great benefits of working from home, however, relaxed data security and blurred office hours can become an opportunity for cyber threats. If you're considering adopting a work from home policy, here are some factors that should be carefully considered:
Equipment and Maintenance
It should be outlined what equipment and utilities employers and employees are responsible for providing and maintaining. Will bandwidth be a reimbursable expense? Will laptops, phones, etc. be provided by the business or will this be a BYOD project?
If technology is provided by the employer, determine the employee's responsibility to keep it maintained and install upgrades. If you have a BYOD policy, decide if employees required to bring their devices in for upgrades and security checks. Click here to learn more about adopting a BYOD policy.
Fair Labor Standards Act
When employees work from home, overtime laws are still applicable. The Fair Labor Standards Act (FLSA) created a framework for paying wages above the law's definition of a 40-hour workweek that includes overtime pay for work performed beyond that threshold. Under FLSA, two basic classes of workers are defined: those employees who must be paid overtime when working in excess of forty hours (non-exempt employees), and those who are not required to be compensated for work done beyond the 40-hour limit (exempt employees).
The problem FLSA presents is that non-exempt employees must be paid for all work, including any work activity outside regular working hours. An example of the liability that is created for an employer are employees who respond to texts and emails from home outside "office hours." This is compensable work and needs to be counted under the 40-hour threshold. Policies that protect you from any violation of FLSA should be articulated clearly in writing.
Be Aware of Organizational Silos
When developing a WFH policy, the above issue of FLSA points out that effective WFH planning and implementation requires collaboration, and not just between individual managers and employees. IT involvement may be necessary – determine who is supporting off-site technology and maintaining data security. It is a human resource issue-will performance measurements need to be tweaked? It may be a legal issue – certain types of data is governed by federal and state laws such as HIPAA and FERPA.
It is extremely important that companies take into consideration the data protection and legal implications before opting for a work from home setup. WFH policies can prove beneficial to both the employer and the employee if planned well and implemented properly.
No matter if you're in the office or at home, networks need to be secure and maintained. MSPs like Wahaya can help ease the telecommuting transition with remote access solutions and business data continuity plans. Contact us to start setting up your business to operate from any time, anywhere!
HIPAA (Health Insurance Portability and Accountability Act) serves as a constant reminder to professionals in the healthcare field that data security is of utmost importance. Every company that works directly with protected health information (PHI), along with their business associates, is required to complete a risk assessment.
What is a Risk Assessment?
HIPAA requires covered entities, which includes health plans, healthcare providers, and healthcare clearinghouses to complete a thorough risk assessment to determine all possible vulnerabilities in terms of data security.
A HIPAA risk assessment should determine that your organization is in compliance with all of the privacy, security and breach notification requirements of HIPAA. It is required of both covered entities and business associates. This can be achieved via the risk assessment process, the goal of which is to identify all of the potential areas of vulnerability.
Why is a HIPPA Risk Assessment Mandatory?
HIPPA regulations exist to cover data security. Covered entities are responsible for assessing, identifying, documenting vulnerabilities and taking precautions to eliminate or mitigate the risk of a breach.
An organization can be fined for the failure of due diligence to recognize areas where a data breach could occur. For example, the Centers for Medicare and Medicaid Services reported a wireless health service provider violated HIPPA Privacy and Security rules when a laptop with PHI was stolen from an employee's vehicle. The investigation revealed insufficient risk analysis and the company agreed to pay $2.5 million and implement a corrective action plan.
Companies are also subject to a fine fined even if no data has been breached, but they allowed a situation to develop which creates vulnerability.
What Does a HIPPA Risk Assessment Entail? 
Due to the unique vulnerabilities of electronically stored and transmitted data, a professional in cybersecurity, data protection, and data backups should handle your risk assessment. Wahaya's cybersecurity and compliance services can assist your organization with internal compliance and the specific requirements to protect you from legal regulations regarding PHI and HIPAA.
Here is a quick summary of what a risk assessment entails:
A risk assessment should first determine (a) where PHI resides, moves, or is transmitted, and all of the access points. For example, the individuals in an office that have access to patient data and via what media. Interestingly, the rise of mobile devices has created a new area of concern for data security because medical professionals can access data on their phones and tablets.
Then, the assessment should determine the vulnerabilities along all of these touchpoints. That means identifying the threats to data security, which HHS summarizes in four categories:
Unauthorized (malicious or accidental) disclosure, modification, or destruction of information
Unintentional errors and omissions
IT disruptions due to natural or man-made disasters
Failure to exercise due care and diligence in the implementation and operation of the IT system."
Next, a risk assessment will need to identify and evaluate all of the existing security protocols to protect PHI.
The following step is to determine if these tools are sufficient for data protection and whether the protocols and safeguards are being observed.
After that, identify the likelihood of a threat. In other words, not all risks are of equal likelihood. As there are limits to an organization's capacity to eliminate risk, the focus should be on the ones which have a higher probability of occurrence.
Finally, calculate the likely consequences of a breach of PHI. If a breach occurs along any particular touchpoint, how severe would it be? Would it be the release of a single piece of PHI, or one affecting thousands?
Given that so much data is now stored electronically, the risk of a data breach is considerably higher and security is far more complex. It needs to be noted that ignorance of any part HIPAA Guidelines is not an excuse for non-compliance. Failure to do a risk assessment, or to have conducted an adequate risk assessment that failed to identify specific vulnerabilities is, in and of itself, a fineable offense.
Given how quickly the digital landscape changes, it is important to consult an expert with experience in HIPAA related digital security. Wahaya IT Consulting can help protect your business and your patients' PHI from HIPAA violations with a thorough risk analysis, adding data security measures, and following all security and compliance regulations. Click here to contact our team of IT Professionals!
Employees are often the target of cyberattacks that can compromise private company data. New employees in particular can be the most susceptible to common attacks such as social engineering and phishing. To stay ahead of cybercriminals, organizations should educate and train all employees through a top-down IT security approach.
A top-down IT security approach begins with the IT department and management communicating the importance of cybersecurity and creating guidelines for reporting suspicious activity. IT Departments are not the only ones targeted by cybercrimes, leaving the potential for any employee to become a security liability. A top-down approach shifts the sole responsibility away from a single department.
A combination of general security training and instructions to recognize and report breaches are essential for keeping company data safe. Wahaya IT Consulting works with organizations to create a custom IT Policy handbook to distribute to every employee. Click here to see more of our recommended cybersecurity training best practices.
Focus on the first steps you need to take as an organization to better prepare your employees to identify and mitigate cyber threats. For example, employee training is just one part of Wahaya's layered approach to IT security. Minimizing the of a cyberattack can help to avoid the following repercussions:
Negative affect on brand image: Business disruption due to downtime or having your business data (including customer and vendor details) stolen reflects poorly on your brand.
Loss of customers: Customers may take their business elsewhere if they don't feel safe sharing their information with you.
Financial loss: Data breaches make you liable to follow certain disclosure requirements mandated by the law. These may require you to make announcements to the media, which can become expensive. You may also have to hire a PR team to address communications during this time.
Potential of lawsuits: A company could be sued by customers whose Personally Identifiable Information (PII) has been compromised or stolen. Depending on the industry, there may also be steep fines for noncompliance.
Your company's organizational structure should acknowledge the fact that IT security is not only your IT department, CTO, or Managed Service Provider's (MSP) responsibility. IT Security is dependent on every part of the business. Starting from the top and encompassing every employee within the organization approach will lead to success in keeping customer and business information safe and secure.
Cover your vulnerabilities with a cybersecurity prevention plan. Contact us to learn more about our cybersecurity solutions.
Cloud security is defined as the protection of data stored online via cloud computing platforms. Reviewing the benefits and risks associated with cloud security can help organizations find the right cloud security approach to match their needs.
The Benefits of Cloud Services
Many small businesses, consumer industries, and health care environments have switched to cloud technology to store their data. The Cloud offers numerous benefits over the traditional, physical on-site server. It is a great choice, especially for SMBs who don't want to be burdened with higher in-house IT costs. Click here to learn more about Wahaya's managed cloud services.
Reasons for switching to the cloud include:
Anytime, anywhere access to your data: Information in the Cloud can be accessed from anywhere using an internet connection, unlike in the case of traditional servers, where a physical connection to the servers is needed.
Significant cost savings: Reduce hardware costs, because you do not need to invest in physical hardware.
Shared storage leads to cost savings: The Cloud lets you share space with others while maintaining a secure environment in general. It follows a 'pay-as-you-use' approach to data storage allowing you to enjoy cost savings based on your data storage needs. Traditional options require you to pay for and purchase a whole new server if your data storage needs exceed the existing capacity.
SaaS compatibility and support: Since software can be hosted in the Cloud, it allows the use of Software-as-a-Service.
Scalability: The Cloud lets you scale up and down as your business needs change.
24/7 monitoring, support, and greater access reliability: When your data is in the Cloud, the Cloud service provider is responsible for keeping it safe and ensuring it is securely accessible at all times. They monitor the cloud's performance and in the event of any performance issues, they provide immediate tech support to resolve the problem.
Organizations must not only protect consumer information to satisfy customers, but many must follow regulations for storing sensitive data. Common personal data stored that is protected by regulations are credit card and healthcare information. In particular, healthcare providers must implement a cloud solution that is HIPAA compliant. Different environments will face unique privacy and security concerns.
Threats to Cloud Security
Putting your data in the Cloud is not completely risk-free. Just as storing data on physical servers has its security threats, the Cloud presents certain security concerns as well.
To protect your network, Wahaya offers managed a layered approach to security. Cloud backups, continuous employee training, filtering, and AI-based malware learning all work as different layers to our security approach. Our various levels of defense minimize the possibility of cyber threats slipping through.
Major threats to cloud security include:
Data breach: A data breach is when your data is accessed by someone who is not authorized to do so.
Data loss: A data loss is a situation where your data in the Cloud is destroyed due to certain circumstances such as technological failure or neglect during any stage of data processing or storage.
Account hijacking: Like traditional servers, data in the Cloud could be stolen through account hijacking as well. In fact, Cloud account hijacking is predominantly deployed in cybercrimes that require identity thefts and wrongful impersonation
Service traffic hijacking: In a service traffic hijacking, your attacker first gains access to your credentials, uses it to understand the online activities that happen in your domain, and then uses the information to mislead your users or domain visitors to malicious sites.
Insecure application program interfaces (APIs): Sometimes, Cloud APIs, when opened up to third parties, can be a huge security threat. If the API keys are not properly secured, it can serve as an entry point for cybercriminals and malicious elements.
Poor choice of Cloud storage providers: A security lapse from the Cloud storage provider's end is a huge security concern for businesses. It is very important to choose a trusted and experienced Cloud service provider who knows what they are doing.
Cloud Security Mechanisms
As part of a layered approach to cloud security, there are several mechanisms that can be implemented to counter potential threats. These include:
Cloud firewalls: Much like the firewalls you deploy for your local IT network, Cloud firewalls work to prevent unauthorized Cloud network access.
Penetration testing: Penetration testing is a sort of a Cloud security check where IT experts try hacking into the Cloud network to figure out if there are any security lapses or vulnerabilities that could serve cybercriminals.
Obfuscation: In obfuscation, the data or program code is obscured on purpose such that the system delivers unclear code to anyone other than the original programmer, thus mitigating any malicious activity.
Tokenization: Tokenization is the process of replacing sensitive data with unique identification symbols that retain all the essential information about the data without compromising its security.
Virtual Private Networks (VPN): Another, more commonly used mechanism is the VPN. VPN creates a safe passage for data over the Cloud through end-to-end encryption methodology.
Investing in a good cloud security system is a must, especially when it comes to protecting private consumer data. Complete cloud security is a blend of all these multiple digital security layers plus internal policies, best practices, and regulations related to IT security.
Ready to implement the right cloud security solution for your organization with Wahaya IT Consulting? Click here to contact us!
Managing risk: Keeping IT up and running
So why are we addressing risk management? Because every firm needs to make plans if something bad happens. It could be a fire, flood, hurricane, extensive power or broadband outage, even an act of terror, but any of these events could affect your IT infrastructure or capacity to connect to it. And many smaller firms fail to recognize how reliant they are on their IT infrastructure. Here are two tools that can help keep your IT infrastructure operational in the event of a disaster.
VoIP– This is an interesting option. You may have the standard PBX system that handles switching calls that are directed within your physical organization, and it may even allow call forwarding, but that is all it usually permits. VoIP systems allow dramatically aggressive approaches to call forwarding, including time windows. This makes it easier to maintain voice connections even if access to a physical site has been blocked. VoIP also offers many innovative features such as voice-to-text and voice-to-email that can increase productivity.
Uninterruptible power supplies (UPS) and surge protection – Don't forget the obvious. Risk management means looking at one of the key risks any business faces: power interruption. What would you do if a long term power event occurred? Could you just tell your customers "oops-sorry?" That won't likely work very well. There are uninterruptible power supply systems using battery support, natural gas and other fuels which can provide support for as long as is needed.
Contact a managed services provider to discuss inhouse UPS management.

Cybersecurity Training Best Practices for Employees
Cybersecurity services provide protection against hacking, viruses, and other threats to an organization's data. While there are many outside threats, employees are usually the first targets of cyberattacks such as phishing, malware, and ransomware.
To avoid having data compromised by an internal member of an organization, employee training should be part of a company's cybersecurity initiatives.
Employee training for cybersecurity is particularly important for companies dealing with sensitive information such as credit cards and HIPPA regulations. Small to medium businesses need to train employees to identify and respond correctly to cyberthreats before they become detrimental.
Here are some employee training best practices to include in your employee cybersecurity training program:
Create an IT Policy Handbook
A handbook of your IT policy should be shared with every employee in the organization – from the CEO to the interns. It should inform anyone with access to your systems on how to spot and report potential scams.
Wahaya IT Consulting creates a custom-tailored IT Policy handbook for all of our managed clients. In conjunction with our training platform, it can mitigate human security risks and identifies major cybersecurity risks to your industry. The handbook also meets compliance requirements for local data security laws by aligning with a "Reasonable Cybersecurity Program," required by the state of Lousiana and most other states.
Phishing, fake software, and other cybersecurity scams are constantly evolving. Ensure your IT policy handbook is consistently updated to keep employees aware of new threats.
Add Cyber Security Training to Official Onboarding Initiatives
Cybersecurity should be incorporated as part of your onboarding program for all new employees.
You can also conduct refresher sessions to ensure your existing employees are up-to-date on the latest cyberthreats. At the end of the training session, conduct tests, mock drills, and certification exams.
Good training includes assessments and follow-ups. Wahaya IT Consulting provides necessary training needed for most compliance requirements, including weekly video micro trainings, and monthly newsletters, all integrated with dark web monitoring. Consistent and positive experiences with training will ensure your employees take cybersecurity seriously.
Day Zero Cybersecurity Threat Alerts
As previously mentioned, the cybercrime landscape is constantly evolving. Every day, cybercriminals are finding new vulnerabilities to exploit, and new methods to steal your data or to hack into your system. Day zero alerts are a great way to keep your employees updated.
For example, if a new security threat is discovered, an email should be sent that clearly defines the threat and what can be done to mitigate it. Afterward, follow up to verify employees took the necessary steps.
Transparency for Employees and Organizations
Considering the serious ramifications brought on by cybercrime attacks, organizations need to strengthen their first line of defense against cybercriminals–their own employees. Let your employees know what to look for and who to report to the event of any IT related challenges.
Reduce your risk of an employee falling victim to cybersecurity attacks and risking your organization's data with a custom cybersecurity and training plan from Wahaya IT Consulting.
Click here to contact us for more information about cybersecurity solutions.