On-premise PBX is also known as an IP-PBX phone system. It is similar to a traditional PBX system that resides at a location, such as a computer equipment room or phone closet. The main difference is that IP routing is done with more current technology. The signaling is done with an IP phone to the IP-PBX server using a LAN. Calls can go through a traditional phone company as well as voice over Internet (VoIP) using SIP trunking.
The provider can be the one that already provides service, though a SIP trunk can be configured for use with an Internet service telephone provider (ISTP).
Advantages
New open source feature sets can be added without any license fees with some systems
Current carrier does not have to be changed
VoIP trunks can be added to save on calling costs
Server ownership reduces expenses over time
No DIY time on the part of the customer
Professional training of staff on new IP-PBX system is handled by the provider of the system
With SIP trunking, loss of Internet or catastrophic event has reduced affect on operations because calls can be sent to another number or a mobile phone.
Lower monthly cost after expenses are covered
Ability to SIP trunk to get lower cost calls
On-premise IP-PBX provider will qualify network
On-premise IP-PBX provider will install and program IP-PBX
On-premise IP-PBX will train staff on feature use and "best practices"
Disadvanges
On-premise IP-PBX needs a provider who can manage it properly
Expansions may result in complicated projects depending upon the provider
On premise IP-PBX manufacturer could go out of business, leaving problems with managing root problems
Technician may need to be called for upgrades and patches on software
Loss of power or PBX failure will result in callers not being able to get through, which stops business operations unless you have a SIP provider
Higher initial cost and set-up cost
Potentially higher maintenance costs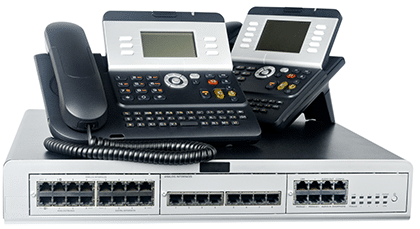 Hosted PBX or hosted VoIP, is where the provider is responsible for housing the IP-PBX as well as handling the technology required to provide the services to the phone system. The desk sets will plug into your network and are connected to the provider's network.
We can help you get better reliability and simpler operations at scale with the first software-centric SIP carrier.  Enable your organization to utilize voice and messaging services with the nation's largest network reach for carrier-grade SIP trunking service for IP-PBX systems and analog/digital telephone adapters.
On-Premise PBX
We work with various partners to provide your company on site phone systems. Please contact us to help you locate a provider that works best for your organization.
As a business owner, you are constantly looking for ways to cut costs and re-prioritize your spending. With all the services you are tasked with managing (merchant services, shipping services, payroll services, etc.) it's understandable you haven't mastered the knowledge of each industry. Maybe you've heard of SIP trunking, and…
Read more
There are pros and cons of both hosted PBX as well as on-premise PBX. There are some fundamental differences to each of the systems and they feature advantages that should be known prior to making a decision on one or the other. The move to an IP-PBX business phone system…
Read more